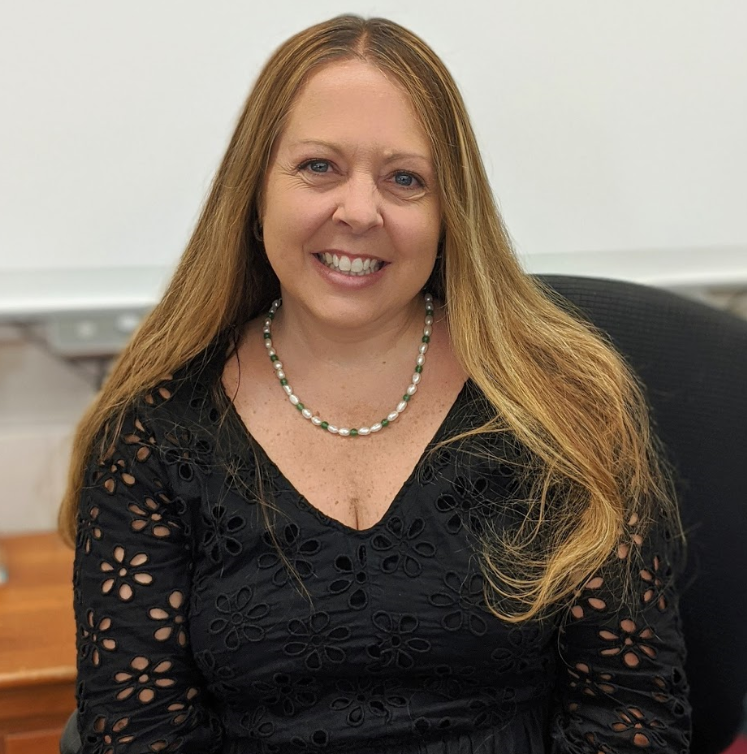 Principal Pamela Cavanaugh
Dear Windham High School Students and Families,
Welcome to the 2021-2022 school year!
I am honored and excited to serve Windham High School students and families as your Principal, along with Ms. Fatima Piresson and Mr. Patrick Risley who make up our administrative team. We, and our teachers and staff, are here to support our students' academic achievements and social and emotional learning. We are eager to see our returning students and would like to welcome our newest Whippets to "La Familia" at WHS.
WHS is committed to ensuring that each of our students is successful, and I am confident you will have much to celebrate.
Communication with our WHS families is very important to us. If you ever have any questions or concerns, please email or call me: pcavanagh@windham.k12.ct.us 860-465-2460
Like us at Windham High School @WHSWHIPPETS on Facebook
Follow us on Instagram WindhamHSWhippets
Visit our website at www.windhamps.org
I hope that you find our Windham High School Handbook informative and useful.
We welcome you to the new school year and wish our Whippets a great year ahead. It's going to be a great year! Go Whippets!
Very truly,
Mrs. Pamela Cavanagh
Estimados estudiantes y familias de la Escuela Superior de Windham,
¡Bienvenido al año escolar 2021-2022!
Me siento honrada y emocionada de servir a los estudiantes y familias de la Escuela Superior de Windham como Principal Actual, junto con el Dr. Aneury Morales y el Sr. Patrick Risley, quienes conforman nuestro equipo administrativo. Nosotros, y nuestros maestros y personal, estamos aquí para apoyar los logros académicos y el aprendizaje social y emocional de nuestros estudiantes. Estamos ansiosos por ver a nuestros estudiantes que regresan y nos gustaría dar la bienvenida a nuestros nuevos 'Whippets' a La Familia en WHS.
Espero que encuentre nuestro Manual de la Escuela Superior de Windham informativo y útil. Si alguna vez tiene alguna pregunta o inquietud, envíeme un correo electrónico o llámeme: pcavanagh@windham.k12.ct.us 860-465-2460
Estamos muy contentos de continuar con el impulso de nuestro año escolar 2021-2022. El año pasado, WHS logró el éxito en múltiples áreas. Nuestro programa ECO recibió reconocimiento nacional; nuestros atletas ganaron múltiples campeonatos; nuestros estudiantes de arte colocaron como finalistas en el concurso de zapatos Vans; organizamos nuestra octava edición anual de 'Lock in for Literacy' y muchos de nuestros alumnos de último año obtuvieron créditos universitarios en las clases de ECE y AP. WHS se compromete a garantizar que cada uno de nuestros estudiantes tenga éxito, y estoy segura de que tendrá mucho que celebrar.
La comunicación con nuestras familias WHS es muy importante para nosotros. Enviaremos la mayoría de nuestros mensajes a través de 'Blackboard'. Puede elegir recibir mensajes por teléfono, texto o correo electrónico. Para asegurarse de recibir cada mensaje, consulte el folleto adjunto sobre 'Blackboard
MyConnect', que contiene instrucciones sobre cómo registrarse. También te animamos a:
Denos 'Like' en Windham High School @WHSWHIPPETS en Facebook
Síguenos en Instagram WindhamHSWhippets
Visite nuestro sitio web en www.windhamps.org
Le damos la bienvenida al nuevo año escolar y le deseamos a nuestros 'Whippets' un gran año por delante. ¡Va a ser un gran año! ¡Vaya 'Whippets'!
Sinceramente,
Pamela Cavanagh