School Governance Council Consejo de Gobierno Escolar
The School Governance Council (SGC) provides a remarkable opportunity for our school to engage with families and community members in the essential dialogue about student achievement and preparing all students for success.
According the the Connecticut State Department of Education:
"School Governance Councils were created by the state's recent education reform law (Public Act 10-111) to enable parents, school staff, students (where appropriate) and community leaders to work together to improve student achievement in the state's lowest performing schools. School Governance Councils serve in an advisory capacity and are charged with assisting the school administration in making programmatic and operational changes to improve the school's achievement.
El Consejo de Gobierno Escolar (SGC) brinda una oportunidad extraordinaria para que nuestra escuela se involucre con las familias y los miembros de la comunidad en el diálogo esencial sobre el rendimiento estudiantil y la preparación de todos los estudiantes para el éxito.
Según el Departamento de Educación del Estado de Connecticut: "Los Consejos de Gobierno Escolar fueron creados por la reciente ley de reforma educativa del estado (Ley Pública 10-111) para permitir que los padres, el personal escolar, los estudiantes (cuando corresponda) y los líderes comunitarios trabajen juntos para mejorar rendimiento en las escuelas de más bajo rendimiento del estado Los consejos de gobierno escolar sirven en calidad de asesores y están encargados de ayudar a la administración escolar a realizar cambios programáticos y operativos para mejorar el rendimiento escolar.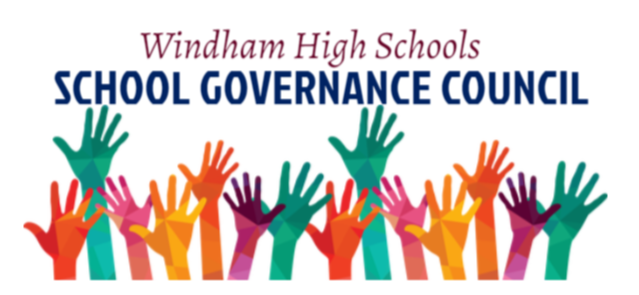 Windham High School Governance Council Members
*************************************
Miembros del Consejo de Gobierno de la Escuela Superior de Windham
Current Members 2022-2023
Parents
Darcy Baren- 2st year, 1st term

Evette Figueroa- 2nd year, first term

Christina Simmons- 2nd year, 1st term

Jennifer Torres- 1st year, 1st term

VACANT PARENT SLOT

VACANT PARENT SLOT

VACANT PARENT SLOT
Teachers
Elizabeth Prose

Alysha Minaya-Torres

Tina Titus

VACANT STAFF MEMBER SLOT

VACANT STAFF MEMBER SLOT
Students
Melvin Padilla- Freshman 1st year, 1st term

Jaelize Rivera- 1st year, 1st term

Maliachi Fowler- 1st year, 1st term
Community Members
Community Member(s) will be elected during the first SGC meeting that will be held in November 2022
Upcoming Meeting: Meeting to be determined!
Topic: SGC
Link: https://zoom.us/postattendee?mn=_l4MHdcdGGEHBHPHIN7Uemet6Chq22Vtd9s.wH7pECiazebr2eaB
Meeting ID: 495 544 6280
One tap mobile
+16469313860,,4955446280# US
+19292056099,,4955446280# US (New York)
See you all then!